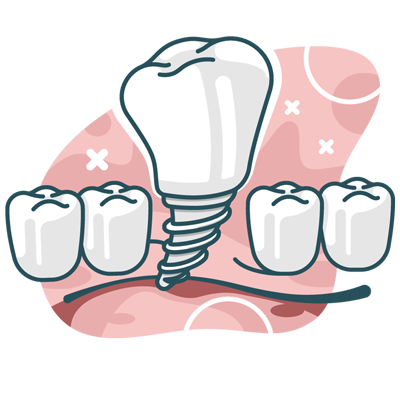 Dental Implants in Uxbridge
If you have one or more missing teeth, your quality of life and self-esteem may suffer. At Dentistry on Brock, we can help restore patients' smiles with natural-looking dental implants.
What Are Dental Implants?
Implants are comprised of a titanium screw and a post that is covered with a crown, bridge or denture. The implant then is placed into the jawbone where it replaces the tooth root. After a few-month period, the implant attaches to the bone, so it now looks and functions like a natural tooth.
Dental implants have a high success rate and are a great way to replace dentition. An implant is considered the best way in this day and age to replace a tooth and optimize oral function.
With dental implants you can enjoy your favorite foods. Whether you like steak, corn on the cob or another food that requires durable dentition, implants will enable you to eat what you want.
Dr. Dave will have a consultation with you to determine if you're a suitable candidate for dental implants. For example, we need to make sure you have sufficient bone for an implant. He'll ask you what your long-term and short-term goals are for your smile.
Though implants are considered an optimum premium treatment in cases of missing teeth, they're not suitable for everyone. If Dr. Dave determines that implants are right for you, we will give you an estimate of the treatment cost, so you know what to expect.
For the implant placement surgery, Dr. Dave refers patients out to local periodontists and oral surgeons. Many people ask if the procedure is painful. Generally speaking, it's not. Some even say, "That was easier than I thought!"
After the area has healed (about a 3-4-month period), you would come in to have impressions taken for a crown. We work with a local lab that produces high-quality crowns. The materials of our crowns have been used for a long time and have an excellent success rate. We make sure your implant looks natural, fits well and matches the color of the surrounding teeth.
Dr. Dave also will review with you how to properly clean and take care of your implants.
If you aren't a suitable candidate for dental implants, we offer many options that allow you to restore the appearance and function of your teeth:

Fixed bridges
Implant-supported bridges
Overdentures
Partial dentures
Single crowns
We will provide the restorative solution that's best for your needs and budget.
Schedule a Consultation
Are you wondering if dental implants Uxbridge are right for your smile needs? Contact us today to book a consultation with Dr. Dave.
CONTACT US »
---
Dental Implants Uxbridge ON | (905) 852-5550